Robert Lewis McLellan-Sim N.R.I.A.D.

Talented Art Master of the Prince of Wales School 1947-63

by Neville Watson (Scott House 1953-59)


The Artist in His Studio - 1950's
Introduction
One day while going through an old stamp album, I came across a Commemorative Brochure of the 1954 Definitives for Kenya, Uganda and Tanganyika issued when Queen Elizabeth II came to the throne. It said that Robert Lewis McLellan-Sim had designed the 10 shilling blue.


SG 179 Royal Sagana Lodge
Intrigued, I went to the Old Cambrian website to see what records there were of Mr Sim who was art master at the Prince of Wales School from 1947 to 1963. He was to be seen in the 1959 staff photograph but other than that there was virtually nothing else about him on the website.

Looking back, I don't think I had ever heard anyone at school refer to him other than as "Mr Sim" or as "Mr McLellan-Sim", but with my interest whetted I began to wonder what else he might have done besides teaching art. So after enquiries to one or two of my contemporaries at school, I decided to do further research and to my delight I discovered that our old art master, unbeknown to either me or my classmates, had in fact been a man of considerable achievement.

It has been a pleasure and an interesting experience to do the research, especially as it afforded me the opportunity to meet daughter Kelsey McLellan-Sim, to whom I am indebted on many counts. (Readers should note that in the absence of a nickname I refer throughout this article to Mr McLellan-Sim as either "RMS" or "Mr Sim").

Early Life
RMS was born in Newport, Gwent, Wales, on 19th December 1907. He was one of six siblings and his Scottish father William was an engineer. His daughter Kelsey said that her parents were very private people who kept no diaries and who left very few personal papers. Fortunately we do have a formal portrait photograph of him taken when he was six or seven years old.


Aged about Six
RMS attended Newport Secondary School from 1919 to 1924. In 1926 he won three prizes for graphic arts at the National Eisteddfod of Wales and in 1926 he was awarded a scholarship to study at the Newport School of Arts and Crafts (now part of the University of Wales). After finishing college with a Board of Education Teachers Certificate he attended the Newport Institute for Research into Art and Design (N.I.R.A.D.). Years later NIRAD merged with its sister institute from Cardiff to create the Wales Institute for Research into Art and Design.


RMS in his early Twenties
At sometime during this period RMS designed a beautifully executed tribute to a retiring dignitary from the local museum.


Certificate of Appreciation
The Nineteen Thirties
We lose sight of the whereabouts of RMS for a couple of years, but in 1932 we find him teaching in Sussex at the East Grinstead Grammar School. This was probably when he met Marjorie Buddle who was to become his wife.

After finishing teaching for the day RMS attended evening classes in London to study graphic design and printing, and was awarded a City and Guilds Handicraft Certificate.


Fieldwork Studies whilst a Student
Fieldwork Studies whilst a Student
1934 saw a move to Derbyshire where he taught art at Buxton College, Matlock.

Buxton College was founded in the sixteenth century but by the 1920's had become a boys' grammar school which had boarders as well as day pupils. The McLellan-Sim family still holds some teaching notes of this period, written in a neat script in Buxton College school exercise books for classes of various ages at the school.


Teaching Notes 1934-35
Teaching Notes 1934-35
It was during this time in Derbyshire that RMS painted "Reading Room at Buxton Library", an oil which can still be seen at the Buxton Museum. This is one of only a few of his paintings known to depict people in an interior scene.


Reading Room at Buxton Library -early 1930's
Although graphic design appears to have been RMS's principal artistic interest at this time, he nonetheless continued to practise his drawing skills. The study of a person believed to be a colleague at Buxton College is an example:


Life Study of Fellow Master at Buxton College (?)
On 25th August 1934 RMS married Marjorie Buddle in the Parish Church of Broadwater, near Worthing in Sussex. Marjorie was five years younger than her husband and an only child whose father was the Manager of Barclays Bank in Lombard Street in the City of London.


Wedding Day
The McLellan-Sims were to have two daughters, Alison and Kelsey both of whom will be remembered by Old Cambrians who attended the Prince of Wales School during the Fifties.

In 1936 RMS moved back to teach in Sussex, possibly at The West Sussex College of Arts and Crafts, where he remained until he joined the RAF in 1941.

It is clear that the nineteen thirties was a period when RMS concentrated on earning a living by teaching art, probably graphic design, at a time of deep economic depression. He had completed his education, improved his skills by studying at evening class, and now had a family to support. As yet, however, he had not found the right environment in which to hone and practise his preferred craft.
The war, and its effects upon him, was to change all that.

War Service in the RAF 1941-46
In October 1941 at the relatively mature age of thirty seven RMS volunteered for service in the Royal Air Force. In view of his particular talents he was immediately granted a commission as an Acting Pilot Officer in the Administrative and Special Duties Branch, Royal Air Force Volunteer Reserve. During the war he was promoted several times and by the time he was de-mobbed in April 1946 he had reached the rank of Squadron Leader.


RAF Service 1941-46
Most of the war was spent at RAF Benson in England interpreting reconnaissance photographs taken over enemy occupied Europe. In 1945, after VE Day he was posted to South East Asia, where he served for less than a year.

RAF records show his postings as follows:
April 1946 - demobbed.
On 14th June 1945 RMS was mentioned in despatches for "persistent and conscientious devotion to duty on important and secret work".

In later life RMS was to recount that whilst waiting at RAF Benson for aircraft to return from missions over enemy territory he would design fabrics to while away the long hours. These he later sold to London fashion houses and apparently a number of his designs were later to be seen on ladies' dresses paraded around Nairobi in the late forties!


Graphic design executed at RAF Benson
Graphic design executed at RAF Benson
Graphic design executed at RAF Benson
Graphic design executed at RAF Benson
It is fairly certain that RMS never received training as a pilot and that he never flew on reconnaissance missions. In fact most of his flying would have been while he was in the Far East, probably in very uncomfortable transport 'planes, as he was transferred from post to post. As he was involved in classified work it is not clear exactly what duties he was engaged in once the Japanese surrendered, but in a letter to his wife in August 1945 he told her that he was involved with prisoners of war and with the functions of the occupation forces.

In one of his early letters home RMS complained profusely about the food in the mess in Ceylon:
"The wherewithal to sustain life is in poor supply here and the meals have a monotonous similarity - every morning since I've been here we had egg, Omelette, bread and butter and jam - lunch varies between tinned mutton and tinned mutton alternatively garnished with one spoonful of potatoes – very short here - one slice of tomato and one slice of cucumber – the variety being given by a choice of mustard pickle or pickle without mustard. Have seen no sea food and fruit though plentiful is too expensive for the mess and we rarely get other than banana. Altogether a great blow after our week in India. What I'd give for some peas, lettuce, beans etc. from the garden – with a few gooseberries or raspberries thrown in. A wee spot of beef or pork wouldn't come amiss either."

Poor fare notwithstanding, RMS managed to make some very impressive pencil sketches of indigenous people he met in Ceylon, Burma, Indo-China and Malaya, some of which are reproduced here:


Life Study executed in South East Asia in 1945-46
Life Study executed in South East Asia in 1945-46
Life Study executed in South East Asia in 1945-46
Burmese Kampong
As we shall see, it was RMS's experience of the Far East that was to profoundly change his direction in life once he came out of the air force.

Prince of Wales School 1947-63
Once the war was over, RMS hankered for the sun and the freedom that his wartime service in Asia had shown him and one day shortly after being de-mobbed he walked into the Colonial Office in Whitehall and asked for a job "anywhere in a sunny climate". We know that at this time Sir Philip Mitchell Governor of Kenya 1944-52 had been visiting London and had been pleading with the Colonial Office to recruit good quality teachers for government schools. It is possible that RMS was one such teacher. In any event in 1947 the family moved to Kenya.

In 1949 RMS was appointed Assistant Housemaster of Scott, and in 1950 he moved to Junior House, where he remained Housemaster for a year. Daughter Kelsey recalled that both she and Alison always regarded themselves as "Daughters of Scott", and although for a number of years the family lived off-campus on the Lavington Estate (both girls attended Loreto Convent as day girls), their house was frequently visited by admirers from Scott!

The Lavington Estate, north-west of Nairobi, was the original site of the St Austin' Mission established by the French Holy Ghost Fathers and eventually became part of the upmarket residential area of Westlands. Both St Mary's School and the Loreto Convent were located in Lavington.

The School Arts Circle was founded in 1950 with Headmaster Mr Fletcher as President and RMS as Vice President. This society later met under the stewardship of Michael Saville, long time Editor of the school magazine The Impala.

On the sporting front, RMS donated a cup for the Inter-house Tennis Competition.


RMS and "Dudu" Knight rolling the Tennis Court
He was also regularly involved in the administration of the Annual Athletics Day and coached several Colts rugby and football teams.


RMS with unidentified Colts Soccer Team
Surprisingly in spite of or perhaps because of his wartime service in the RAF, RMS was never co-opted into the CCF by either Messrs Forrest or Liversidge. Maybe the fact that they were both army, and proud of it, saved him from this extra-curricular duty! (Nor were other masters such as Dougal Gammie and "Dinky" Duff who also saw wartime service in the RAF).

RMS was closely associated with school plays throughout his time at The Prince of Wales. He designed and painted the sets for many, including "Warn That Man" and "The Importance of Being Earnest" (1948),"Macbeth" in which he also played Mcduff, "Happy and Glorious" (1950), "Twelfth Night" (1953), "Arms and the Man" (1954), "Journey's End" (1957), "Morning Departure" (1959) and "Pygmalion" (1960). Marjorie often designed the wardrobe.

RMS usually designed the programme covers; Victoria Regina (1948) is an example.


Victoria Regina 1948
In 1960 RMS assumed the duties of School Bursar on a part-time basis and in 1962 he became Housemaster for Junior Dayboys.

Music was important to the McLellan-Sim Family, especially Marjorie and musical soirees were often held at their home. Marjorie had acquired a love of operetta particularly Gilbert and Sullivan from her father, and was a good pianist.

RMS enjoyed fishing and as we all know Kenya was blessed with excellent trout streams. He enjoyed gardening and growing his own vegetables, from which large batches of home-made pickles were made.

Kenya Schools' Inspector for Art
What was probably not known to most of us at school at the time was that RMS was Inspector for Art at Kenya Schools. This duty required him to travel throughout Kenya to other schools to encourage the development of Fine Art.

Queen's Coronation Medal
In 1953 RMS was awarded the Queen Elizabeth II Coronation Medal. This honour was also awarded to two other members of staff, Headmaster Philip "Flakey" Fletcher and one-time Acting Headmaster and long time Deputy Head, Jack "Bush" Forrest.

The medal was the official commemoration award for H.M.The Queen's Coronation on 2nd June 1953, and the list of recipients was officially announced on 30th April 1953. It was given on a discretionary basis by local governing authorities throughout the United Kingdom and the Commonwealth. Authorities were free to decide criteria for the award and the recipient list for that area. Recipients included members of the armed forces, government ministers, public servants and others such as serving police officers. A total of 129,051 medals were awarded, with Sir Winston Churchill being the most famous recipient.

Mr Sim as a Teacher
Good teachers seldom get a good press for their prowess in the classroom. Usually we remember their idiosyncrasies. Characters like Dougal Gammie or Storky Chadwick immediately spring to mind. RMS was in a different category.

Martin Langley (Nicholson 1956-61) recalls him in the following way:
"He was a low profile bloke, a very likeable personality, no discerning idiosyncrasies or sharp edges. I don't ever recall him admonishing anyone or raising his voice in class. My memory of RMS is of him strolling around the classroom looking over one's shoulder at pitiful efforts at drawing or painting. For most of us art was considered a welcome and relaxing break that was free of the rigorous mental approach required in say maths or science having to memorise wads of historical facts.

"For me Mr Sim was successful as a school teacher because of his very high standards and knowledge as an artist and also in the example he set through hard work and diligence both in the class and out e.g. sets for the school plays. And he was definitely successful in imparting to his students a broad understanding and appreciation of the visual arts which all go toward turning out a more well rounded product."

Nigel Hayward (Rhodes 1954-57), a talented amateur painter who developed his artist talents well under RMS's guidance and now living in Australia, put it another way:
"From my school reports I can only conclude that I learnt well under his guidance over four years. Robert McLellan-Sim was a very good teacher with a mild and patient manner with whom I felt at ease whilst being tutored."

His brother John (Rhodes 1949-53) who sadly died in Spain in November, 2009, once reminisced:
"My favourite teacher was our art master Robert McLellan-Sim who always made lessons enjoyable and well instructed. I usually got good marks too. He did a lot of oil paintings of Kenya landscapes and was a very good painter of eucalyptus trees and Mount Kenya in the background. He was a well-known artist in Kenya."

I would like to invite other Old Cambrians to submit their stories and memories about RMS.

The East African Standard on one occasion interviewed RMS for his views as a teacher of art and the state of art in schools in Kenya:
"There are not enough hours in the day for Mr Robert McLellan-Sim, a man who, besides being an enthusiastic teacher of art, is also a prolific and successful painter. He has been a painter since 1929. His real love and enthusiasm for his subject, and his own success in art, are he believes a terrific inspiration to his boys in class. He believes that, although real talent cannot, of course, be created by teaching, almost all boys can be taught to draw and appreciate good work, and he says he never had more than 5% of failures in the School Certificate examinations.

"Besides teaching at The Prince of Wales School, Mr McLellan-Sim visits other schools in the Colony to give encouragement and advice on the teaching of art.

"He thinks that considering the difficulties - few schools have proper art rooms and many improvise equipment - the standard of art in Kenya's schools is very high while, for a colony of this size, the standard of art in general is immensely high."

A Painting Career in Africa
RMS was a prolific artist, and during his time in East Africa (he travelled throughout Kenya, Uganda, Tanganyika and Zanzibar) he completed as many as 40 paintings a year. His work was in great demand, and over a period of some fifteen years he held ten One Man Exhibitions, mostly in Kenya, but at least one in England while on leave.

His work was purchased by many eminent people and was extremely popular as an official gift or a farewell present. The Colony of Kenya presented a McLellan-Sim painting to HM The Queen on the occasion of her Coronation in 1953, and HM The Queen Mother was presented with another to commemorate her Visit to Kenya in 1959. Many a departing dignitary at the time of independence received a McLellan-Sim painting as a farewell gift. Both Jake Fletcher and Amoeba Walker took McLellan-Sim works of art home with them to England when they left the Prince of Wales School. The Kenya Regiment presented a McLellan-Sim painting to Sir Patrick Renison as their departing Commander-in -Chief when he retired as Governor of Kenya in 1961.

RMS was a successful commercial artist, with his clients including the East African Tobacco Company, the East African Standard and the Uganda Tourist Board. His public works included the murals for the Kenya Agricultural Stand in the Rhodes Centenary Exhibition of 1952 in Bulawayo, the Nakuru Railway Station murals of 1957 and the 1960 mural for the National Assembly Building in Nairobi.

RMS designed the 1954 blue 10 shilling postage stamp depicting the Royal Lodge at Sagana, a signed mint copy of which has been presented by the McLellan-Sim family to The British Library. This is the one that caught my eye and got me started on this article in the first place.

Mr Sim's Philosophy on Art
RMS's move to Kenya in 1947 was a search for colour and space. His brief war service in the Far East obviously gave him a taste for warmer climes, brighter colours and wide spaces, aspects that were to feature strongly in his African paintings. He is on record as saying that he preferred landscapes and seascapes to portraits because he could go away on his own, often combining his field trips with fishing expeditions, during which he could turn to his sketch book when the trout would not jump!

In 1958, when back in England on home-leave, he told The Worthing Herald:
"I always paint sunshine. It was the sunshine that attracted me. I can't paint greyness and cloudy skies, so Kenya is definitely the place for me."

RMS described himself as "a very rapid, very concentrated painter". He painted during all school holidays and often got two hours work in before going off to school in term- time. He never painted after dark as oil colours tended to play false under artificial light. He never worked at a canvas out-of-doors, where dust and insects were hazards and his usual method of operation was to make a pencil sketch with copious colour notes or perhaps a water colour, and then to work on the oil painting at home, where he set up his easel in one of the bedrooms.

A painting would take from eight to twenty hours painting time to complete; a very small canvas might be finished in one very concentrated day's effort, while a larger work might take several days, the time varying with the amount of research and drawing needed.

Kelsey recalls that when the family lived on the Lavington Estate her father took over a wooden shack in their garden as his studio and that it was "out-of-bounds " to all and sundry, including Mrs McLellan-Sim!

When interviewed in 1964 shortly before he left Kenya for the last time, RMS was asked about his conservative style of painting. His response was uncompromising:
"I am a recorder and proud of it. People say there is something lacking in painters who cannot do this abstract stuff. Perhaps it is the age in which I was brought up. I have no desire to change my style, and I presume I am what is called a square."

It should not be forgotten that RMS lived in an age when few people had access to television, when photography was still far too technical and unwieldy for most, and before the age of the jumbo jet and mass tourism. It was not surprising therefore that realistic and well executed paintings of foreign places and exotic cultures would find a ready and intrigued market.

Square or not, Mr McLellan-Sim's work was popular enough for him to be able to paint up to forty paintings each year for sale during his time in Kenya. Many ex-Kenyans of my generation now scattered across the globe still have his paintings hanging on their walls half a century after they were acquired.

Some Examples of Mr Sim's Works in Africa

Sagana Lodge
RMS painted Sagana Lodge several times and one of these paintings was presented to HM The Queen by the Colony of Kenya in 1953 on the occasion of her Coronation. Another painting of the Lodge was presented by the Colony to the Captain of the B.I. vessel "Kenya" in 1958; this was hung in the main promenade deck of the ship's First Class area.


Photograph of painting of Sagana Lodge
Rhodes Centenary Exhibition, Bulawayo
In 1953 the Kenya Agricultural Association commissioned seven murals for the Kenya Stand at the Rhodes Centenary Exhibition in Bulawayo to show the Colony's main farming products, which at that time were wheat, tea, Ayrshire cattle, sisal, pyrethrum, coffee and Boran cattle. RMS was given a completely free hand in how he was to depict his topics, subject to two provisos. A very wide scenic view of Kenya had to be incorporated into every mural and in each case Africans and Europeans had to be shown working together.


Sisal Plantation at Taveta
Murchison Falls, Uganda
In 1957 the Uganda Tourist Board commissioned RMs to paint posters depicting local beauty spots. His picture of the Murchison Falls is perhaps his most well-known.


Murchison Falls
Dhows
RMS spent numerous school holidays along the East African coast sketching and drawing; his paintings of Arab dhows were particularly popular collectors' items.


Dhow
Dhow
Dhow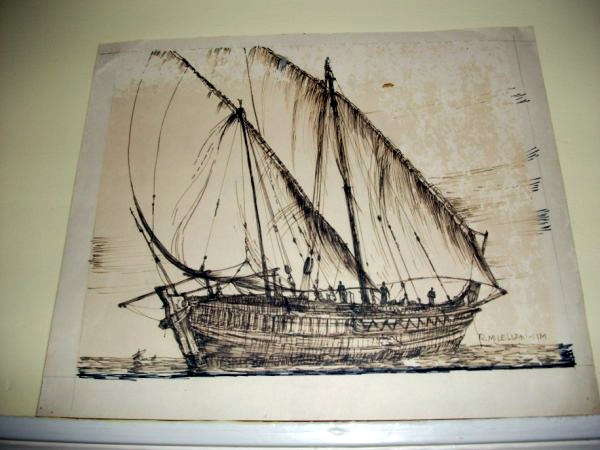 Arab dhow- pen and ink
Pencil study of dhow
East African Tobacco Posters
Mr Sim undertook commissions for the East African Tobacco Company, and prints of two of his works still survive more than fifty years after he painted them.


Canoeists
Tribal Dancers
Old Zanzibar
Zanzibar street scene
Zanzibar street scene
East African Annual Review
For a number of years RMS' eye-catching work graced the covers of the East African Standard's Annual Review.


The Rainmaker
Wild Animals
Jacarandas
Nairobi Club Cocktail Bar
During the course of my research I came across this old black and white photograph of RMS sitting at the bar of the Nairobi Club in front of his painting of Mount Kenya.


This painting still hangs behind the cocktail bar at the Nairobi Club.

Nakuru Station Murals 1957
In 1957 RMS won First Prize of £200 in a competition organised by East African Railways and Harbours to design wall murals for the new Nakuru Railway Station. His winning entry comprised several murals totalling 750 square feet in size.

The main mural overlooking the Main Booking Hall depicted settlers looking over the Rift Valley, with Masai tribesmen and rolling wheat fields. A famous Hollywood film star is said to have been the model for the male settler- he subsequently had a successful career in American politics. Other murals included an imaginary scene of Nakuru Station in 1910, a decorative map of vignette portraits of Rift Valley tribes and the fauna and flora of the area.

Mr M. Grimsburg assisted RMS with the painting and installation of the murals.


RMS at work on Nakuru Station murals
Arrival at Nakuru 1910
Nakuru Station Booking Hall 1958
The Queen Mother's visit to Kenya in 1959
RMS presented one of his own paintings of Mount Kenya to HM THe Queen Mother as a memento of her 1959 visit. Mr Sim subsequently received the following Letter of Appreciation from HM's Private Secretary.


Letter of Appreciation from Private Secretary to HM The Queen Mother
East African Mountains


Mount Kilimanjaro
Mount Kilimanjaro
Mount Kenya
Mount Meru (owned by an Old Cambrian now living in Australia)
African Hills
Ngong Hills
British High Commission, Nairobi


This painting was reproduced as a Christmas card for the High Commission
Carthusian Work Shield
During the course of my researches I came across an interesting reference to RMS's involvement with the Carthusian Shield. This shield, made of mvuli wood, had been presented to the school in 1949 by the Old Carthusian Club of Kenya (former pupils at Charterhouse School in Surrey, England) as a trophy for the House achieving the highest academic results each term with the efforts of every boy in each House being recognised.

As many Old Cambrians may recall, Scott regularly won this trophy, winning it no less than twenty one times between 1949 and 1962. To commemorate this achievement, a replica was made (possibly by Mr Barnett, the woodwork master), painted by RMS and presented to Mr Chadwick, Housemaster of Scott. Mr Chadwick retained the replica, and took it with him back to England when he left Kenya in 1964.


Replica Carthusian Shield
I have not been able to establish why the Old Carthusian Club of Kenya decided to donate a Work Shield to our school. However we know there were some thirty Old Carthusians living and working in East Africa at the time and it is conceivable that one of them had a son who attended the Prince of Wales School. Alternatively one of our school masters might have had links with Charterhouse School. Ron Bullock thinks that E. M. Cobb, Housemaster of Scott in 1949, who was not an Old Carthusian, might have had a hand in the donation.
Can any other Old Cambrian throw light on the subject?

The Old Carthusian Club also donated a trophy for an annual inter-schools tennis competition.

Far Eastern Tour – 1961
In 1961, instead of travelling back to the UK on home leave, the McLellan-Sim family made a three month sea tour of South East Asia and the Far East, calling at Aden, Bombay, Ceylon, Singapore, Saigon, Hong Kong and Japan. Kelsey recalls how during the trip, her father took them to places he had visited during the war. On that trip he painted eleven oils and five water colours, all landscapes, seascapes or street scenes. These were exhibited privately at The Art Gallery in the New Stanley Hotel, Nairobi, on 4th September, 1961.

On 5th May 1963 Val Braun art dealer and painter who ran The Art Gallery, New Stanley Hotel, said he was very unhappy about RMS's impending return to England. He had sold a number of McLellan-Sim's paintings of Mount Kilimanjaro, Old Zanzibar and Mau landscapes:
"His leaving Kenya will make a big hole in my picture sales ...... I am very sorry indeed Mr McLellan-Sim is going away from Kenya."

Mike Saville, Editor of "The Impala", emphasised two aspects of RMS's contribution to cultural life at the Prince of Wales School during the Fifties when in 1962, just prior to his retirement to England, he wrote:
"Mr Sim will have retired, too, before the next edition of the 'Impala' appears. The Headmaster paid a just tribute to his work and personality at Queen's Day: 'It is difficult to imagine the School without him, whether in the Art Room, on the Playing Fields, or with his Junior Day Boys. Nearly every new day boy has passed through his hands and must at some time have been grateful for his sympathy and interest. To the School's Art Mr Sim has brought fame and honour, both with his teaching and with his pictures which are known throughout East Africa. He has been a popular and friendly colleague who will be hard to replace, and we wish both him and Mrs McLellan-Sim a happy return to the UK.

"I must again invoke an editor's privilege with a personal note. In my first year here I endeavoured to produce a play, Shaw's 'Arms and the Man', for which Mr Sim readily agreed to paint the scenery. His kindness and cooperation were exceeded only by the speed and dexterity with which three different sets sprang to colourful life. I remember making tentative, hesitant suggestions about various additions to enhance the sets, unsure of what I really wanted - only to find Mr Sim, with certain and masterly insight produced the very things that I had .... wished for, without my realising it. It was uncanny! But he did it again in the more recent 'Pygmalion'- I could only marvel, then as now, and has a producer's heartfelt gratitude."

Mr O.C.Wigmore, who took over as Headmaster from Mr Fletcher in 1960 wrote of Mr Sim:
" ... he is an artist of considerable distinction and in East Africa is extremely well known and his pictures are in great demand. His teaching of Art in the School is extremely successful and over the years a considerable number of boys have gone on from the School to careers in Art.
"In point of fact Mr McLellan Sim is the complete schoolmaster ... Although he no longer takes an active part in School games, he is an ever present supporter of all activities, is responsible for several aspects of School organisation and runs voluntary Art Clubs for both senior and junior boys. He is an extremely popular member of the staff, respected and liked by both the boys and his colleagues .... he must be one of the best Art masters a School can possibly have."

In a letter written on 22nd March, 1963, Mr D.N.Nuttall Secretary of Kenya's Ministry of Education wrote of Mr Sim:
"In his sixteen years as an Education Officer in the service of the Government of Kenya Mr McLellan Sim has made his name in two different, if complementary, spheres - as a teacher of art and as an artist in his own right. He is by now one of the best known painters in oil of the Kenya scene, his work over the past years having been prolific and of a uniformly high standard. He has performed many commissions and executed numerous presentation pieces, he has repaired old masters and presented one man exhibitions, and he is a registered designer for industry (textiles)."

(So far I have been unable to track down any information about RMS having "repaired old masters" but I was not in the least bit surprised to learn of yet other thus far unrecorded skill of our old art teacher.)

Back to England – 1963
When the McLellan-Sim family returned to England they decided to settle in the West Country. RMS bought sight unseen a delightful three-storied listed stone house set in a quarter of an acre of walled garden in the middle of a beautiful old Cornish town.

For a number of years he taught art part-time at two Cornish schools, Fowley Grammar School and Poltar Grammar School.

He also continued to paint, and was a member of the East Cornwall Society of Artists. During the school holidays he and Marjorie travelled to the Mediterranean where he continued to indulge in his two great artistic loves, sun and colour.

Mediterranean Works


Sunny Street Scene 1970's
Mountain scene
Pencil study
Pencil study
English Works


English Village
Hills and River
In retirement RMS continued to enjoy growing vegetables in his garden and he died in 1985 at the age of seventy eight, a few months after celebrating his golden wedding anniversary.

Marjorie survived him by twenty three years, passing away in 2008 at the grand old age of ninety six.


RMS In his late seventies
Auctions
From time to time paintings by RMS come up for sale at auction. Unfortunately his style of painting seems to have gone out of fashion, and prices achieved have been modest.

For example an internet search came up with an auction in London in January 1999 of a 20"x26" oil by RMS entitled "The Approaching Storm" which realised the paltry sum of £115 including buyer's premium. An auction in New York in November 2009 of travel posters included RMS's "Murchison Falls, Uganda", with a price estimate of US$800-1000. The actual price realised is not recorded.


Murchison Falls poster
Styles of art tend to go in cycles but in RMS's defence I would suggest people who bought his art while living in East Africa in the 1940s and 1950s did so because they liked what he saw and interpreted, and still have no intention of selling them. They want to pass them on to their children and grandchildren as memories of an age that has now passed.

Conclusion
When I first started researching into the life and achievements of RMS I had no idea what I would find.

It is now more than twenty five years since RMS passed away and fifty years since I sat in one of his art classes. Had I known at school what I know now about him and his talent, I might have paid more attention to his teaching! However, there was one thing he did teach me which still sticks in my memory even after all these years:
"Every painting has Perspective. What is Perspective? Think of a straight railway track on an African plain, and see how as it stretches into the horizon until the two rails finally merge. That is Perspective."

Thank you Mr Sim.


Pencil Sketch of Main School and Clock Tower - 1950's


Acknowledgements
When I first started out on my quest to find out what I could about RMS, I didn't realise quite how much help there was out there. My heart-felt thanks therefore go to the following:

It took me some months to find her but, once I had managed to meet her, Kelsey McLellan-Sim was delighted to share with me her memories of her father and his memorabilia. Many thanks, Kelsey.

Ron Bullock (Scott 1949-53), Brian McIntosh (Rhodes 1953-59) and Martin Langley (Nicholson 1957-61) combined to act as long distance editorial committee members, making helpful suggestions and offering me the benefit of very long memories. Thank you, gentlemen.

John Davis (Grigg 1956-60) for information relating to life in Kenya in the 1950's and for scanning all the illustrations reproduced in this article.

Peter Liversidge (Scott 1957-61) for his assistance in locating and interpreting Mr Sim's RAF records.

Michael McCulloch (Scott 1955-61) for the material about the Carthusian Shield.

Keith Trowell (Rhodes 1954-57) and Nigel Hayward (Rhodes 1953-56) for sharing with me their memories of RMS.

Elizabeth Scoble-Hodgins (formerly Betty Walker) for her help in trying to trace Kelsey.

Dr. David Beech F.R.P.S.L. Head of the Philatelic Collections, The British Library, for meeting me to discuss the 10/= blue stamp (S.G 179) designed by RMS and for showing me the final proof held in the ex-Crown Agent archives.

Ros Westwood, Derbyshire Museums Manager, for helping me trace Mr Sim's 1930's painting "Reading Room at Buxton Library".

The Archivist of the Old Carthusians Society.

Bonhams for helping me search for information about recent auctions of McLellan-Sim paintings.

Extracts from the East African Standard of the 1950's.

East African Tobacco Company.

The Impala magazine was an excellent source for background information.

And finally, Steve Le Feuvre (Clive 1970-75), Webmaster and Secretary, Old Cambrian Society (UK), for encouraging me in the first place to undertake this project.

14th December 2010.



*******


Memories and Comments from Old Cambrians